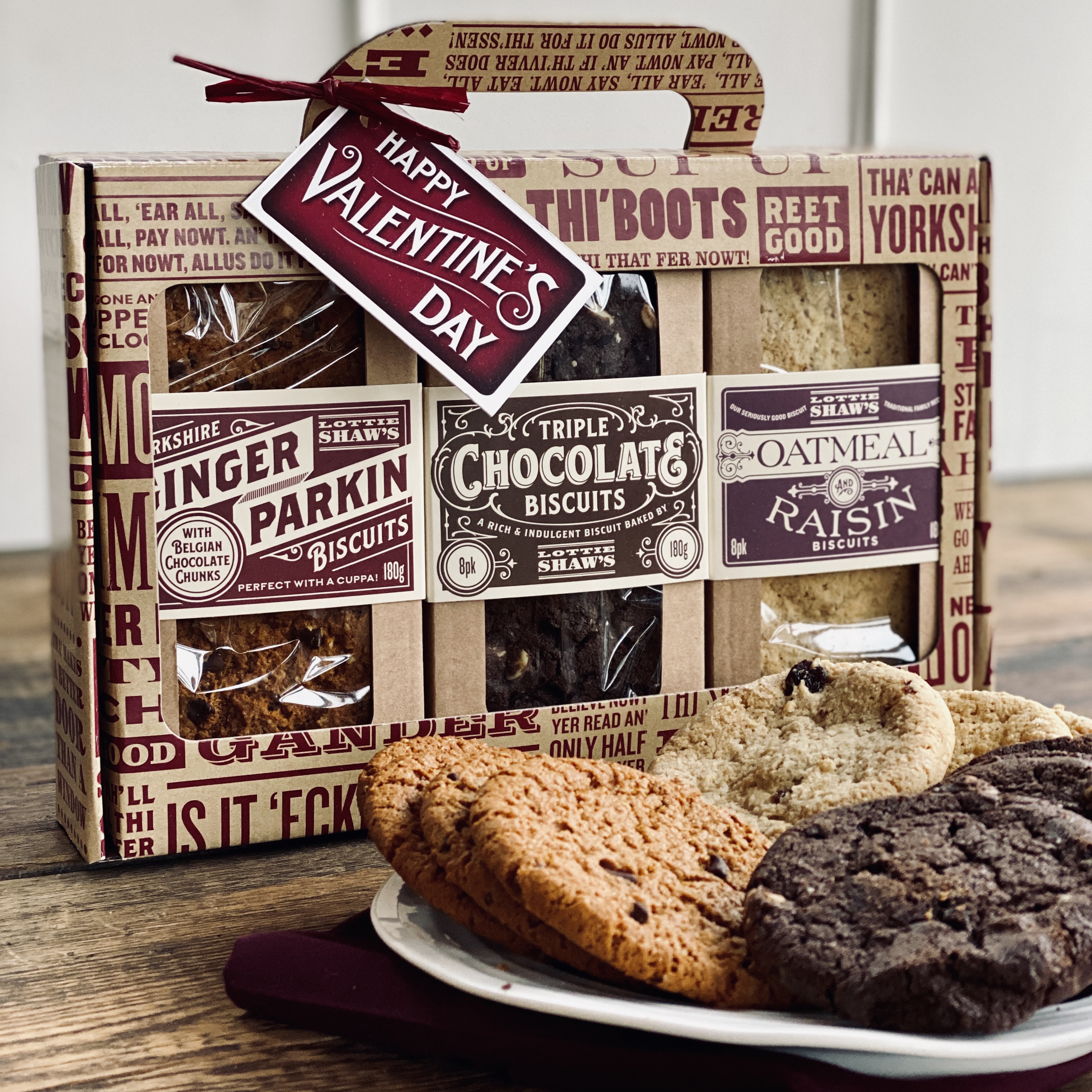 Valentine's day for me?
Simple, no flowers, no fuss just the simple pleasure of sharing a seriously good baked treat, perhaps in front of the fire with a cuppa! Our giveaway is just that… our special Valentine's gift box of 3 boxes of our super delicious new artisan biscuits; Decadent Triple Chocolate, Heritage Oatmeal & Raisin and Ginger Parkin with Belgian Chocolate chunks.
For a chance to #win head over to our Facebook page @lottieshaws | or instagram @lottie_shaws, to enter:
1.) Like the post.
2.) Leave a comment your idea of the best Valentine's Day.
3.) Tag a friend who shares the #love of #lottieshaws baked treats.
Competition ends midnight Sunday February 9th 2020.
Good Luck!
Best wishes Lottie x
Competition Terms & Conditions
1.) Entry is open to residents on the main land UK excluding all employees (and their families) of Lottie Shaw's.
2.) The competition will be open from Sunday 2nd February until midnight Sunday 9th May 2020. No entries will be accepted after this date.
3.) 1 entry from facebook and 1 form Instagram will be chosen at random on Monday 10th February and notifies via Facebook or instagram.
4.) The prize entitles the winner to 1 x Valentine's Biscuit gift box this can not be swopped or redeemed for cash.
5.) Entries can be made at Lottie Shaws on Facebook or Instagram and are limited to one per household on each social media platform.
6.) Lottie Shaw's will post prizes via courier and is not responsible for any prize not delivered in time or lost in transit.
7.) Entrants must be mainland UK residents aged 18 or over. Only entries that follow all the required entry process will be considered.
8.) In the event of a prize not being claimed within 24hr we reserve the right to choose an alternative winner again, chosen at random.
13.) This prize draw will be sent out by Lottie Shaw's. By entering, entrants agree that in the event of winning, they agree to take part in reasonable publicity with no further recompense.