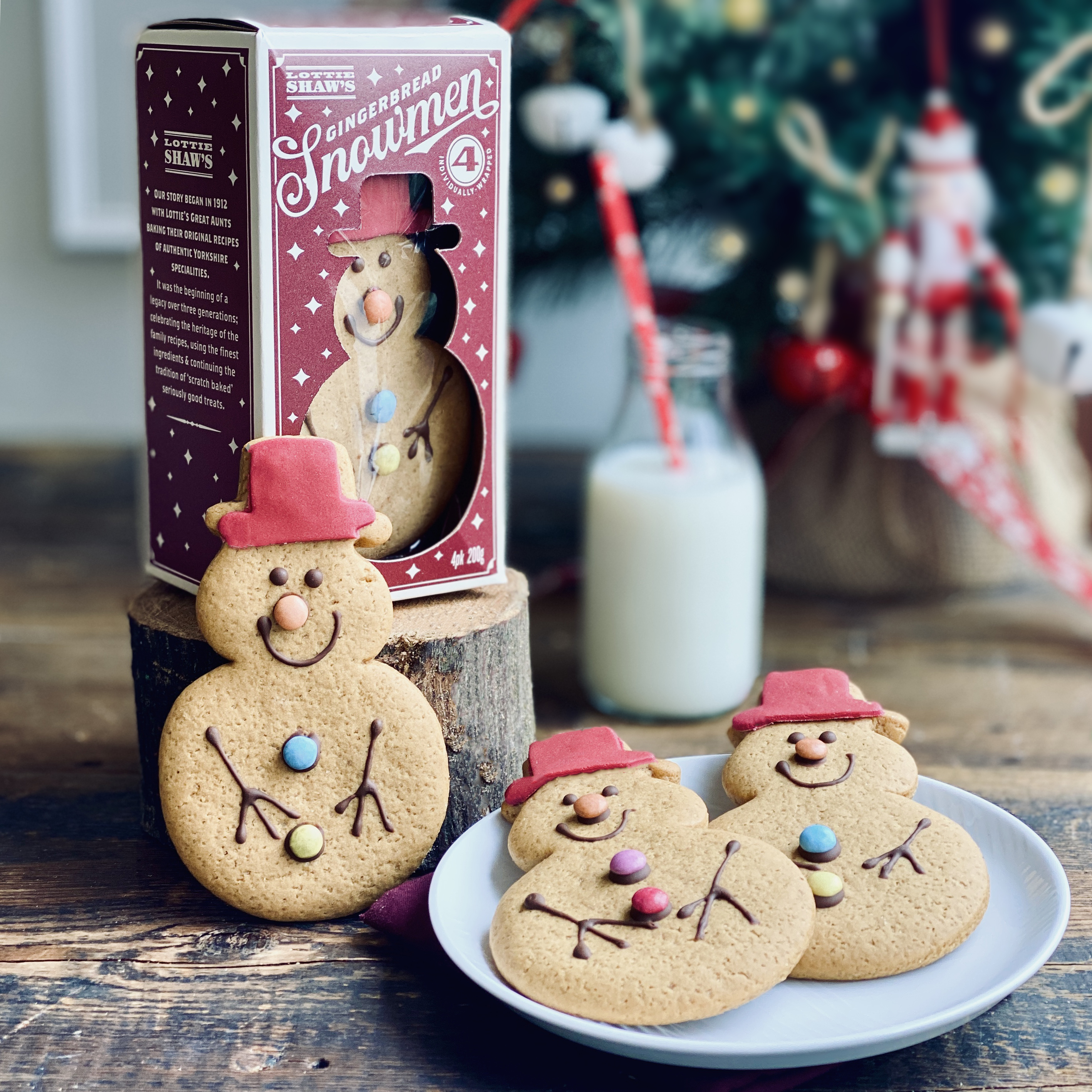 Our gingerbread biscuits are born & baked in the heart of Yorkshire to our own unique family heritage recipe.
New for 2020... Herbert The Snowman.
Introducing Herbert, the Gingerbread Snowman, who is happiest in the winter months when it snows and the icy north wind makes huge snow drifts. Always smartly dressed, this winter he's sporting a fetching crimson top hat and delicious smartie chocolate buttons. Herbert The Snowman is individually wrapped and available in a gift box of 4 or pantry box of 12.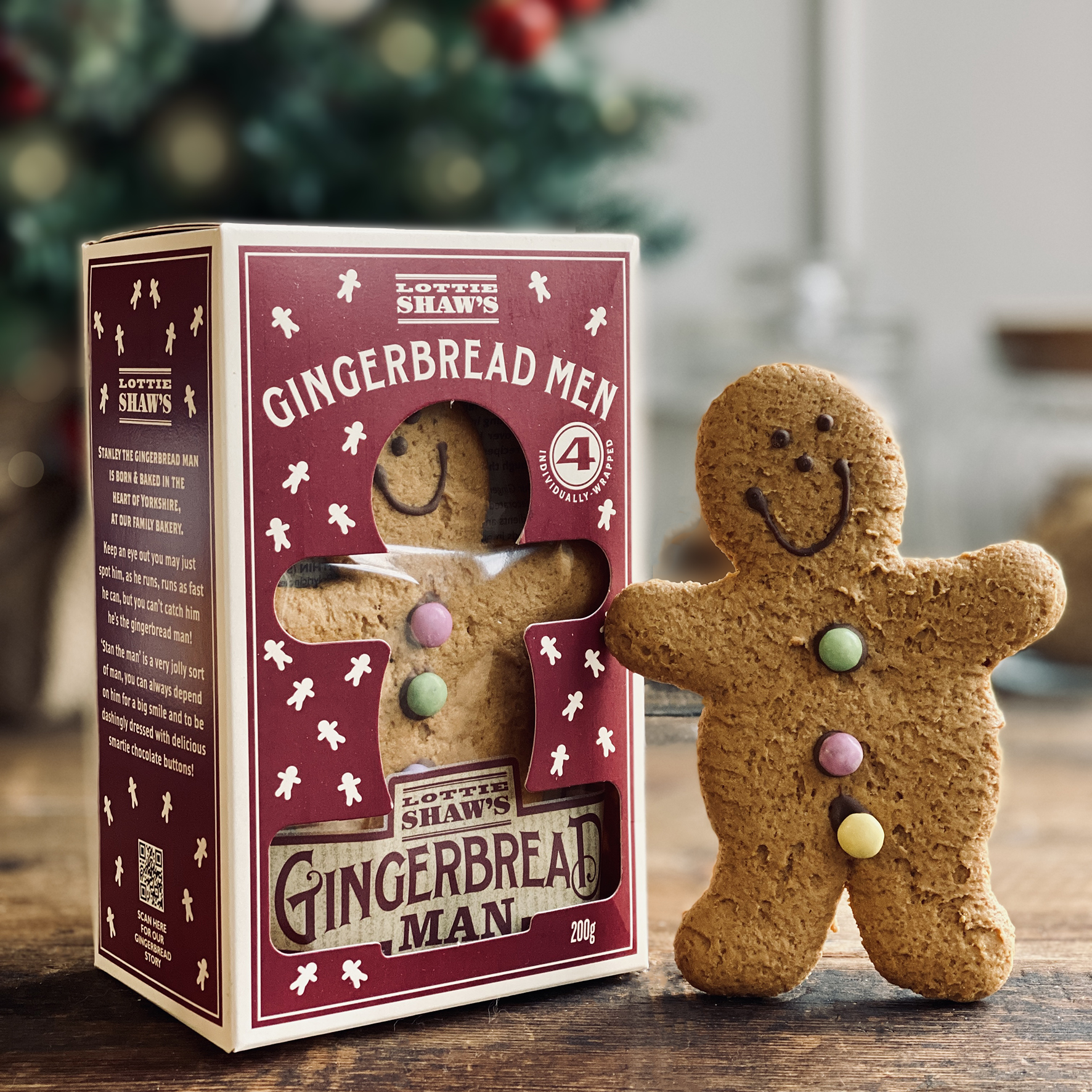 New for 2020... Our best-selling Stanley gets a posh new box!
His fellow friend, Stanley the Gingerbread Man, or fondly known as 'Stan the man' is a very jolly sort of chap.
Keep an eye out, you may just spot hime, as he runs, runs as fast as he can, but you won't catch him, he's the gingerbread man! Stan is baked all year round, and you can always depend on him for a big smile and to be dashingly dressed with delicious smartie chocolate buttons.
StanThe Man is now available in a gift box of 4, or a pantry box of 12 all individually wrapped biscuits perfect to enjoy in packed lunches, Christmas Eve boxes or seriously good stocking filler.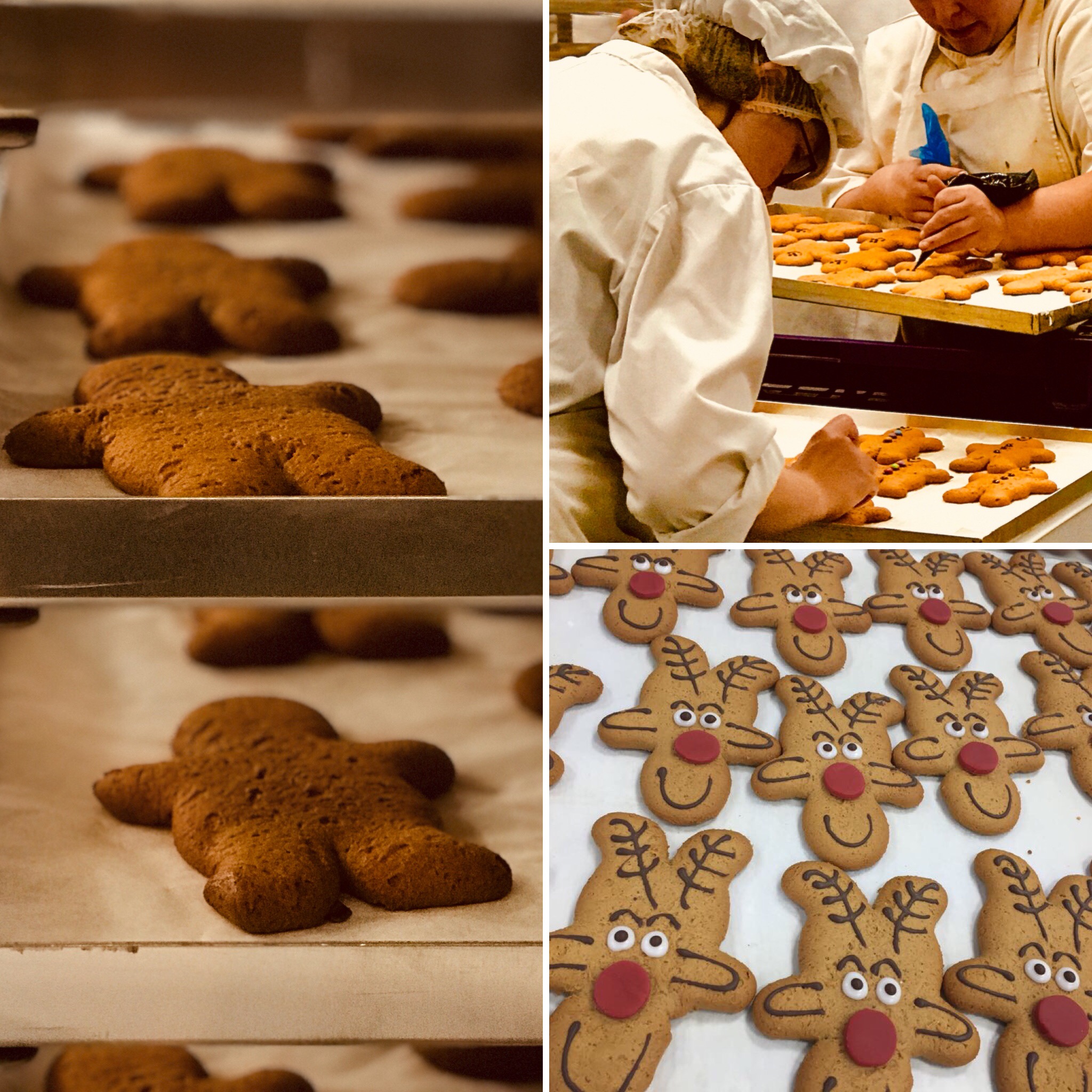 What makes our gingerbread so special?
Loved by generations, our gingerbread, our own family recipe, is somewhere between the snap of a gingerbread and the crumble of a shortbread. Featuring just enough seriously good flavour of warm ginger and spices, topped with delicious hand-piped chocolate and crunch of a mini smartie.
At Lottie Shaw's where ever possible we source our ingredients locally, our gingerbread biscuits are no exception, baked using wheat flour from Yorkshire and milk from our local milkman and the smarties contain no artificial colours or preservatives making Herbert and Stanley a perfect treat for all the family to enjoy!.
Loving made in our family bakery by our team of bakers & icers, we take great pride in making our gingerbread biscuits for you.
More Special Winter Characters...
Don't miss Herbert's other winter chums, Pippa The Penguin and Rudolph The Reindeer!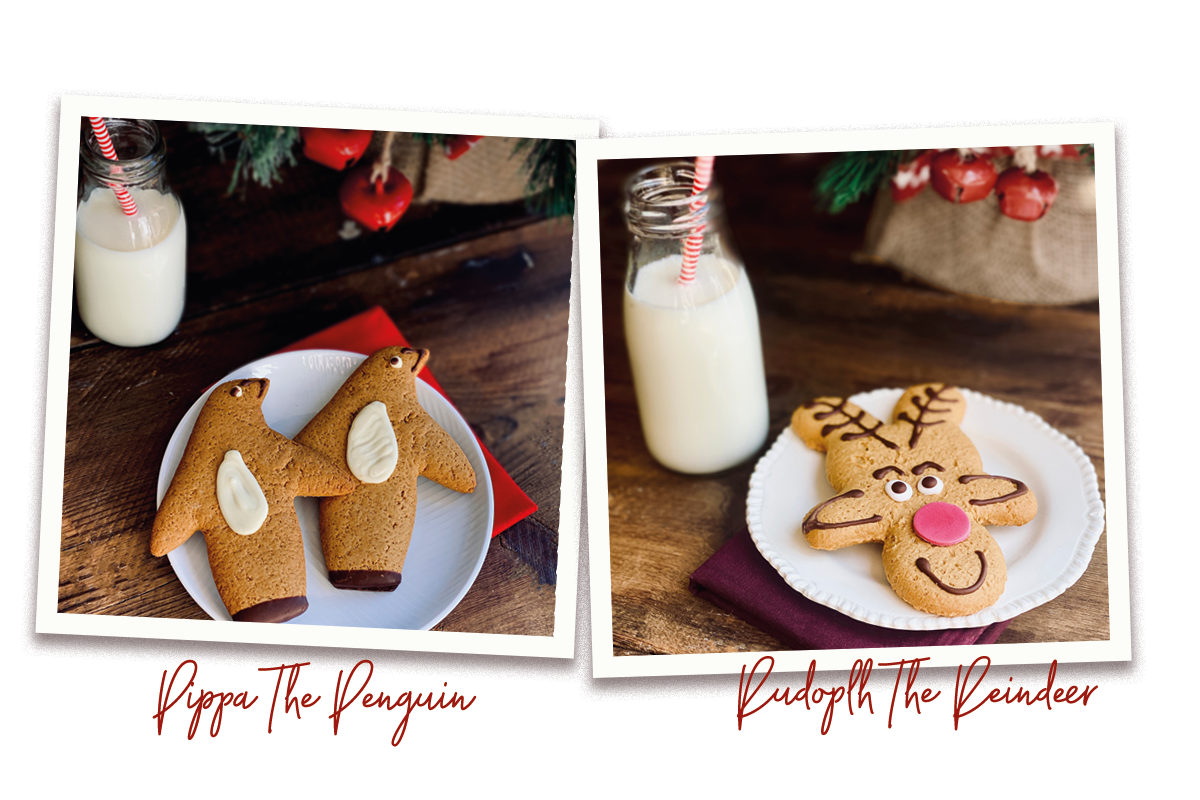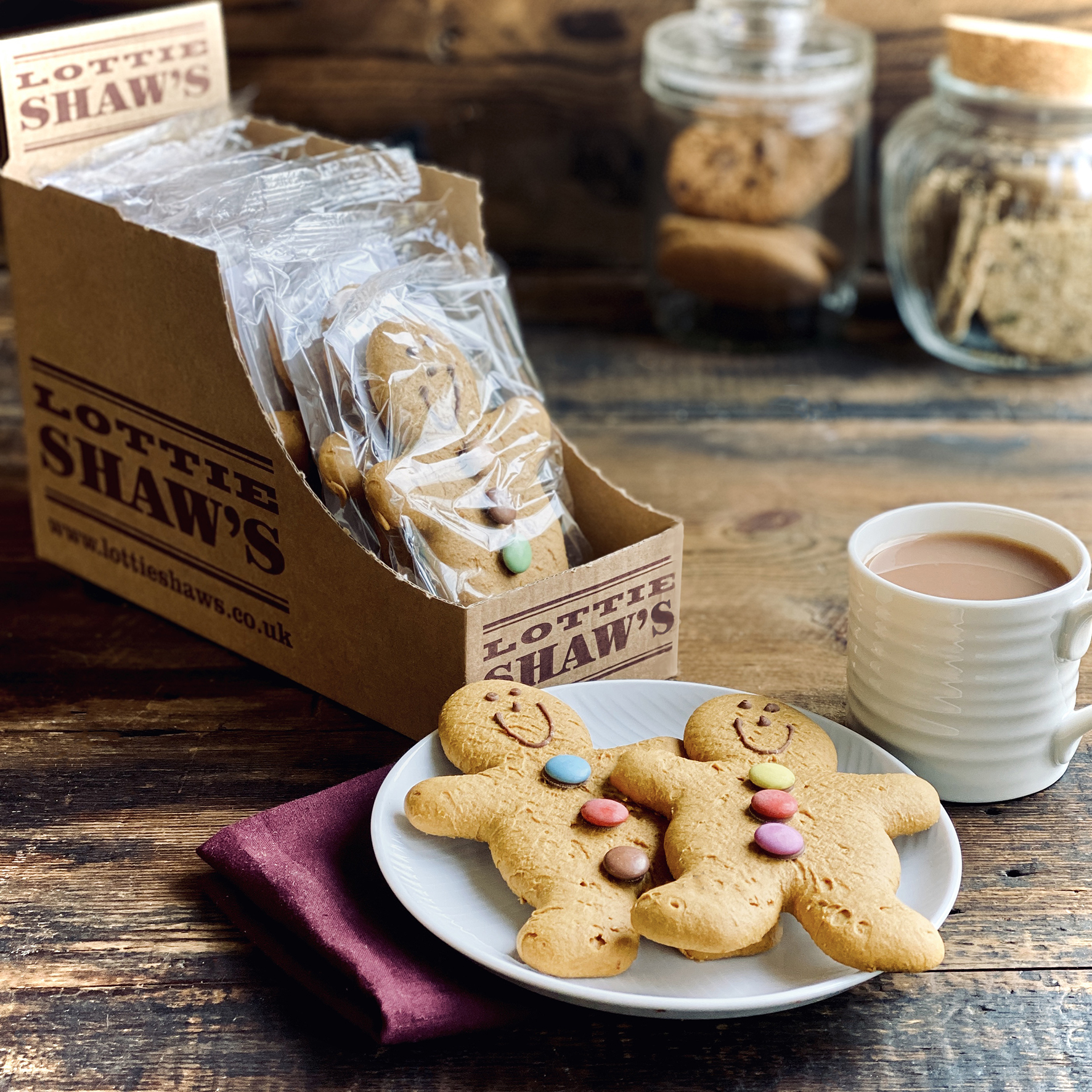 Our Vegan Gingerbread...
If you're Vegan or dairy intolerant... good news we have our best-selling Vegan Gingerbread Man, who has all the flavour of Stan but we bake with soya milk, pipe vegan chocolate and finish with vegan chocolate smarties buttons!