Fondly known as the 'Oscars of artisan food', we are proud to announce we won awards for two of our luxury biscuits collection in The Guild Of Fine Foods prestigious Great Taste Awards 2020.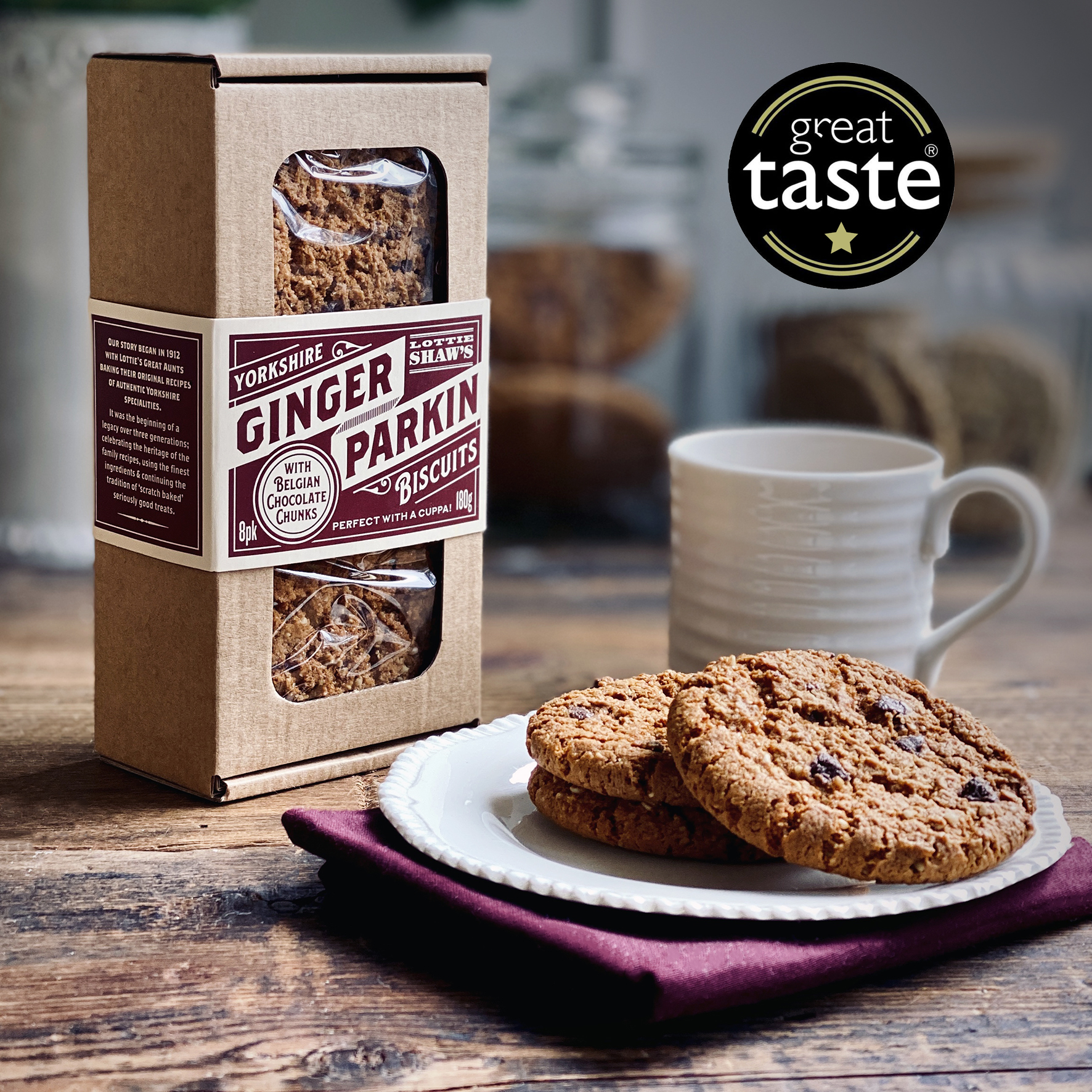 Our best selling, award-winning recipe of Yorkshire Parkin Biscuits now have a new additional range featuring an exciting ingredient - the delicious pairing of Belgian chocolate chunks. We've already had amazing feedback from Lottie Shaw's fans but here's what the Great Taste judges thought...
"A very impressive looking biscuit, crevassed bronze with chocolate pistoles throughout. A well textured biscuit, with a satisfying crunch. Even better is the dissolve that opens up the clean, strong ginger. These are eminently suitable for dunking. The oats, sugar, chocolate and ginger all come together on the finish in a well balanced way."

"Generously sized biscuits with a deep, russet colour and generously flecked with nibs and chocolate drops. Great snap and a fabulous crunch in the mouth. There is a very good level of ginger in these biscuits - a warmth which we really enjoyed. The chocolate works well within and balances out the hot spice. The ingredients have been well thought out and the baking well executed. These are delicious... and very moreish."
Time to put the kettle on and test the dunking capabilities!!!

Click here to order.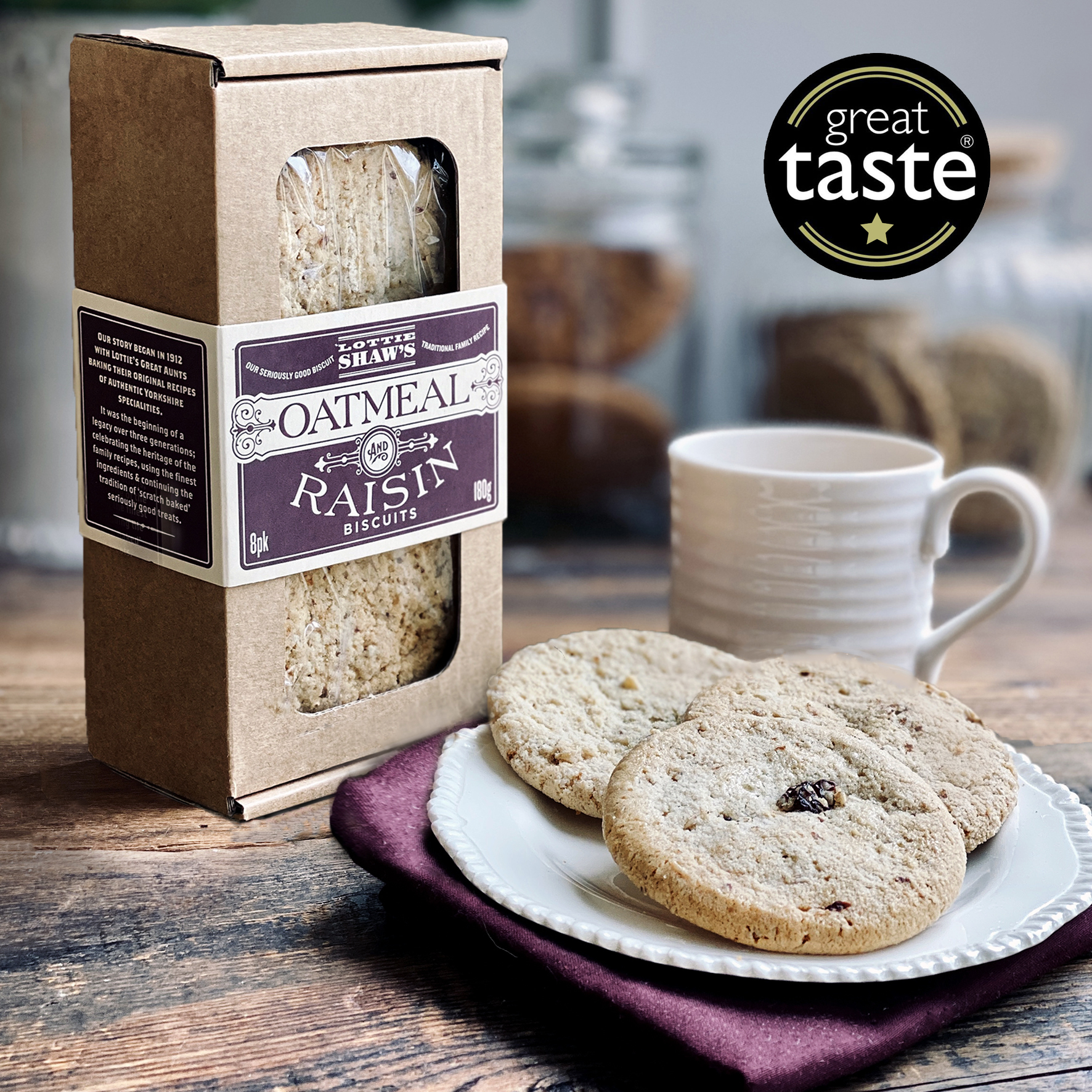 Close to Lottie's heart, her nostalgic childhood favourite, Lottie is proud to bake and share the love of her family heritage Oatmeal & Raisin biscuits recipe. Here is the judges feedback;
"Great looking biscuits with a good aroma of butter and cinnamon on the nose. Great break - they would be perfect for dunking. The tiny pieces of chopped up raisins are pitched perfectly. There is a very pleasant oatiness to these and a level of sweetness that never goes over the top. These are very well baked. Very clever."

"Well baked with a golden brown edge. Crisp, very crisp with a pleasingly chewy middle. Cinnamon at just the right level to not overpower. Sweetness is also pitched at just the right level; we wouldn't want them any sweeter...Calling out for a cup of tea!"

"A very large biscuit with a natural, home-baked appearance - toasted at the edges. Quite thick too - when snapped, it has an attitude. A sweet, oaty nose. The texture starts to become chewy and the melt is very good, giving a flapjack taste almost – oaty and sweet... A good biscuit to enjoy with a cup of tea - more than a nibble, it is, quote, a filling snack."
To try our luxury Oatmeal & Raisin authentic Yorkshire heritage biscuit with your next cuppa click here to order.


Treat a loved one to the collection as a Birthday, Thank You gift - take a look here ... all beautifully packaged in your Yorkshire Sayings Gift box available with gift tag to match the occasion.

The perfect Christmas gift to treat any biscuit fan - our Luxury Biscuit Gift Pack of 3 biscuit flavours all beautifully packaged in our festive Christmas Yorkshire Saying Gift box.