We have something so exciting to announce!
For the first time in the history of Lottie Shaw's we have a new collection of biscuits which will include SAVOURY biscuits!
In the bakery this year we've all been keeping a delicious secret... creating FIVE new beautifully crafted biscuits in a collection that celebrates all that's important to us at Lottie Shaw's - a range of premium biscuits made with the finest ingredients all wrapped up in 100% in eco-friendly packaging.
It all starts here…
It all began with my Great Aunts' Yorkshire Oatmeal & Raisin recipe. It's one of those treasured family recipes passed down through the generations. The original 100 year old list of goodness was revisited and inspired the creation of our collection of classic biscuits baked from our unique Yorkshire heritage roots.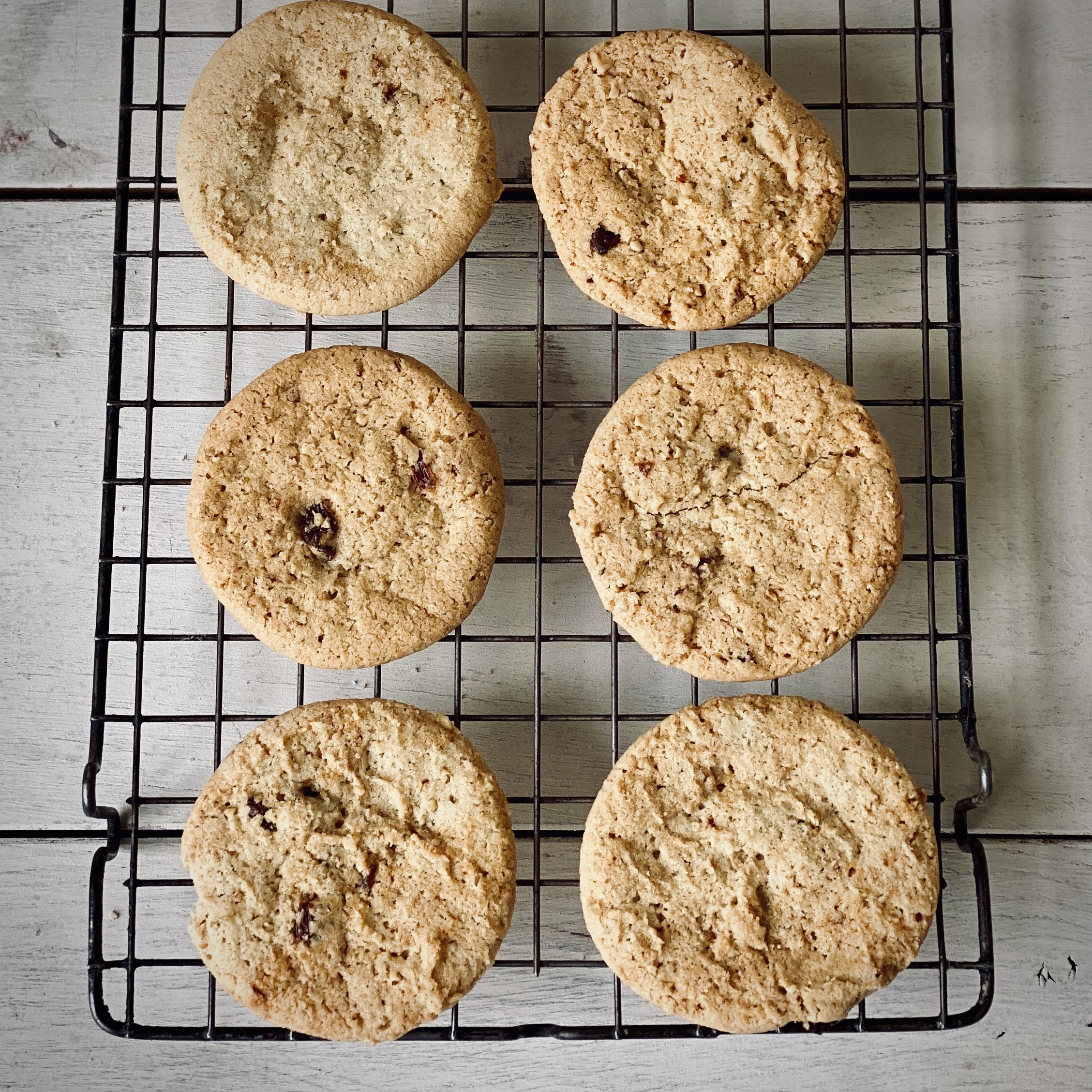 Only the best…
To make our seriously good biscuits we are proud to partner with some of the oldest, most experienced family artisan producers in Britain. Each variety of biscuit has its own story of unique flavour and provenance. We use free range egg in our Ginger Parkin & Chocolate chunk biscuits, local flour from East Yorkshire, and oatmeal milled the traditional way for three centuries less than 70 miles from our bakery. We collaborated with award winning cold-pressed Yorkshire Rapeseed on our two savoury oatmeal biscuit packs, baking biscuits that are high in fibre, low in sugar, palm free and vegan.
My Favourite…?
Hmmmm, it's tricky because like many I reach for a biscuit that fits my mood, but here's why I love these biscuits and I'll leave you to decide which is yours...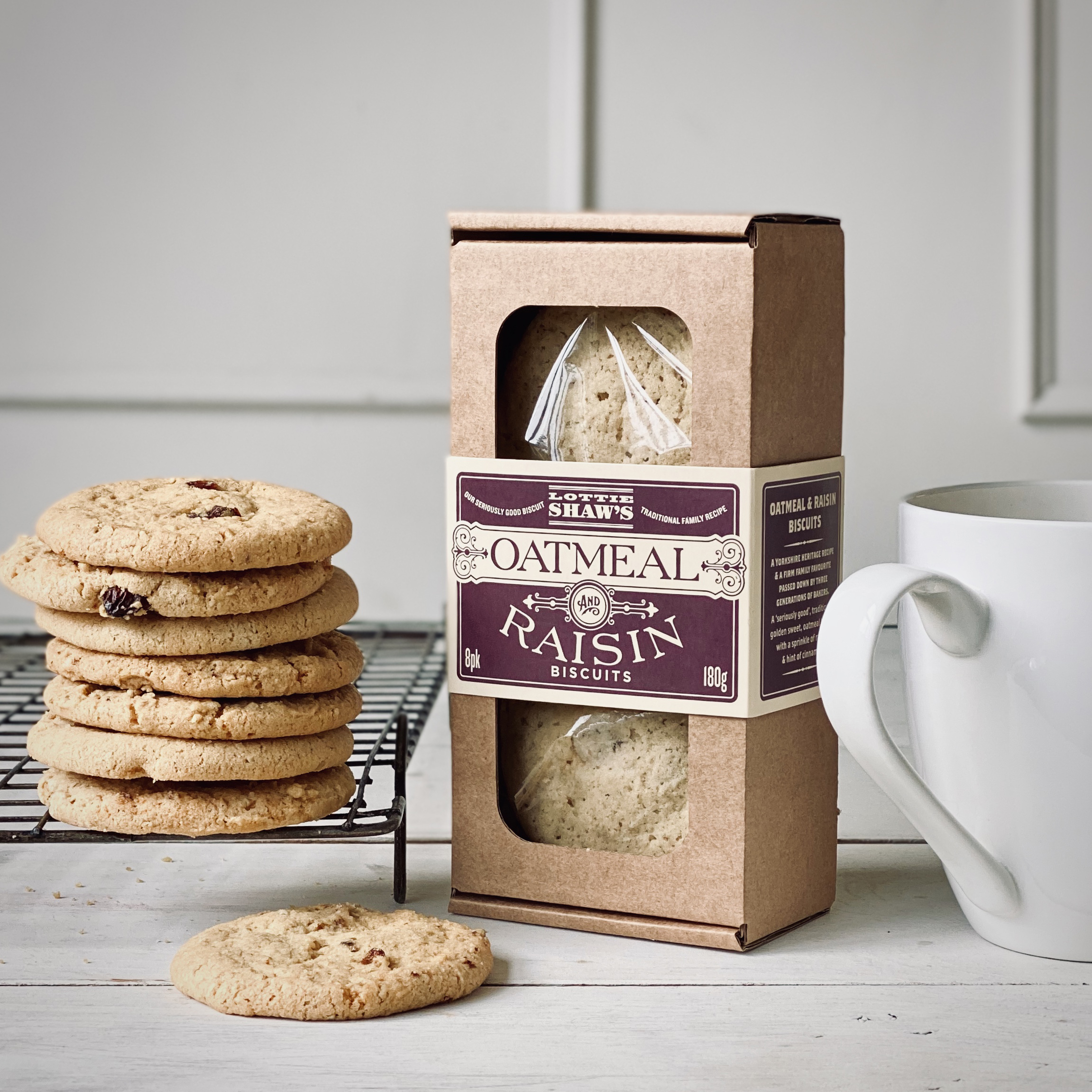 The Oatmeal & Raisin Biscuit.
Quite simply a bite of this biscuit takes me back to my childhood, delicious golden baked oatmeal, sprinkled with raisins with a gentle hint of cinnamon. Reminiscent of times gone by, it's another of our truly 'Authentic Taste of Yorkshire' recipes, from my family baking heritage. A classic combination that is such a favourite in our family I knew I wanted to bring it into the twenty first century Lottie Shaw's range. Shop our heritage Oatmeal & Raisin Biscuits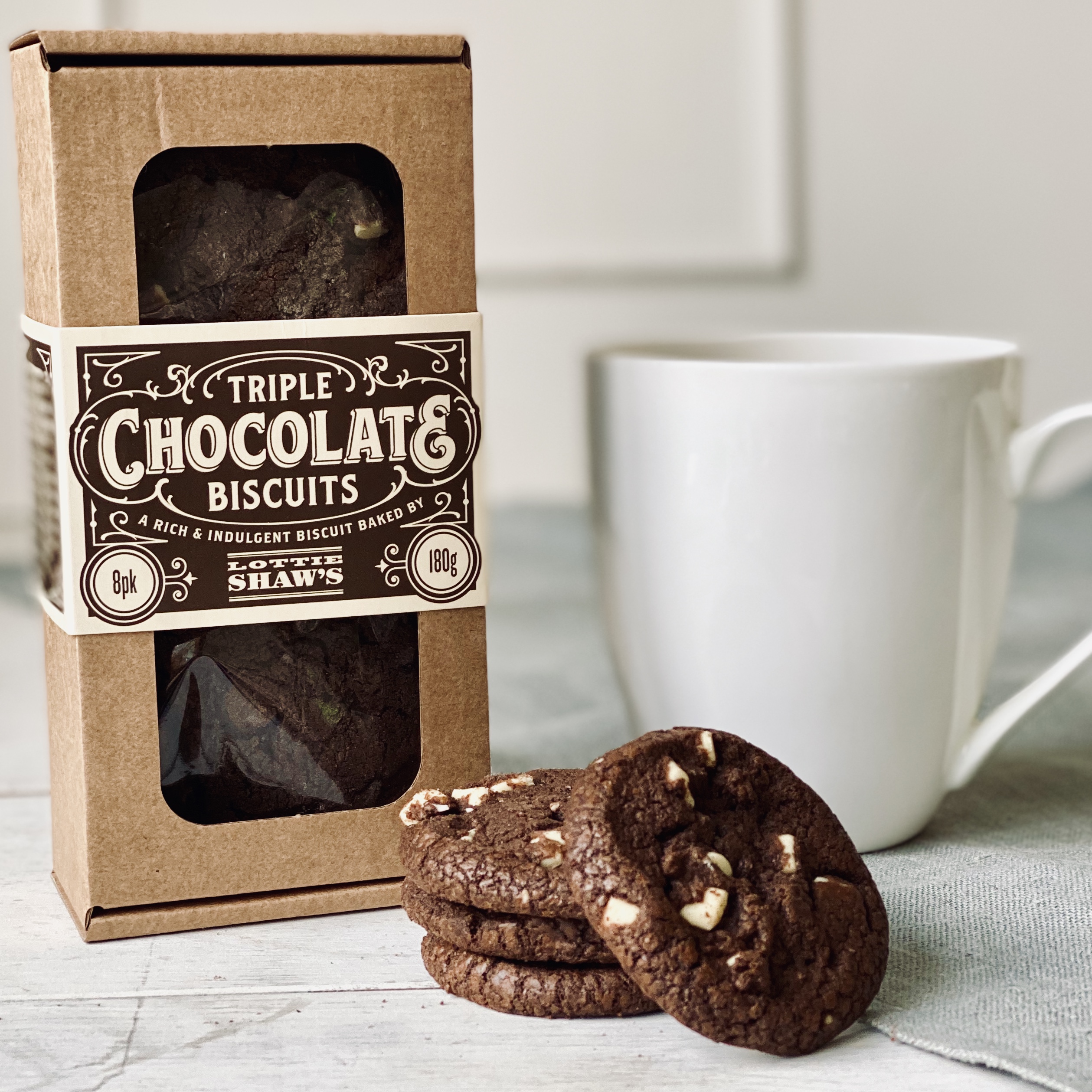 The Triple Chocolate Biscuit.
A biscuit for all the chocolate-lovers out there ... baked with rich Chocolate Couverture, then packed with Belgian dark & white chocolate chunks, it adds a decadent treat to a tea break or Netflix night on the sofa. Shop Triple Chocolate Biscuits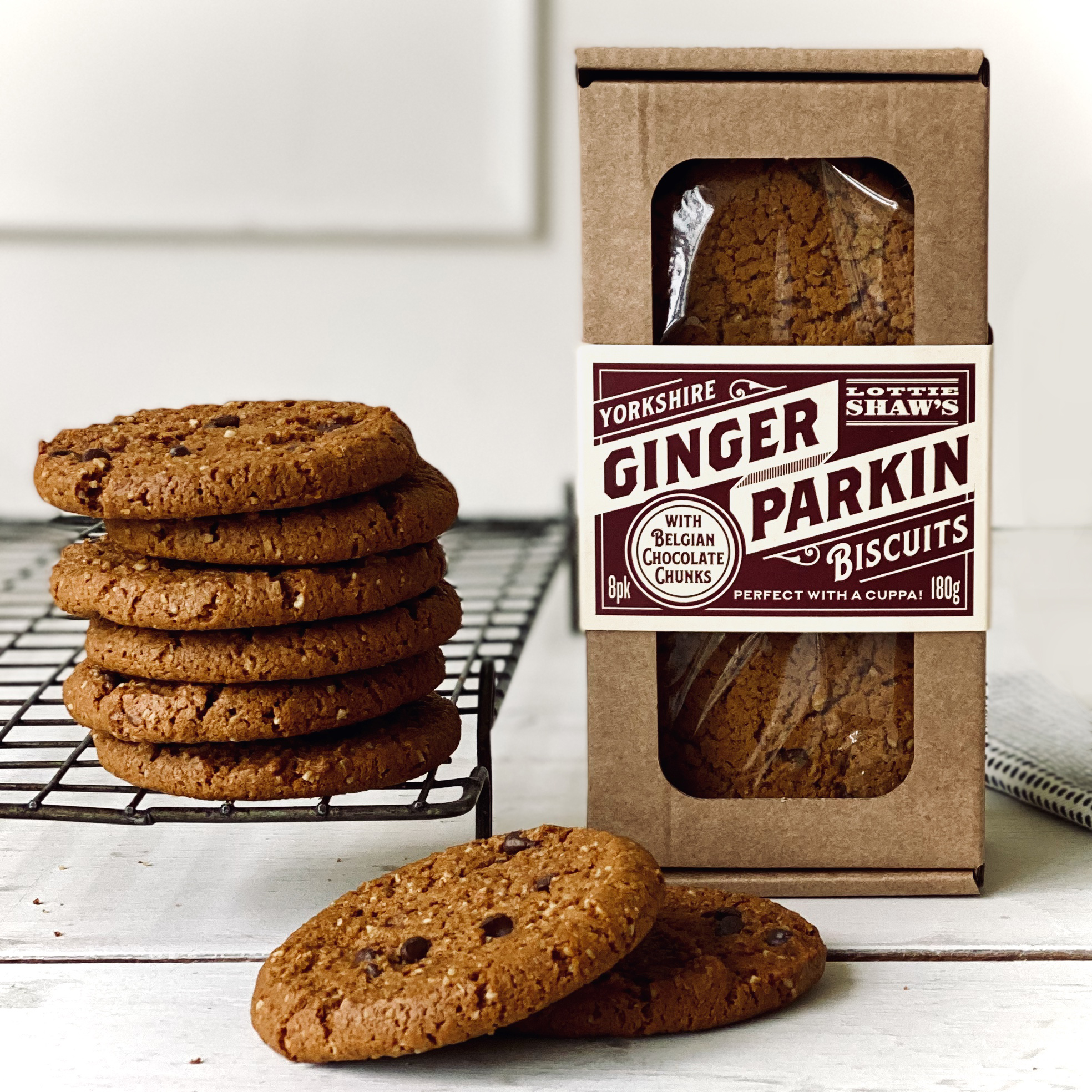 Yorkshire Parkin with Belgian Chocolate chunks.
Calling all our Yorkshire Parkin biscuit fans here's a real treat - our intense authentic ginger biscuit that we all know and love… now with added rich, silky Belgian chocolate chunks.We still bake to the same award-winning Yorkshire Parkin recipe blend of oatmeal, ginger & black treacle just with the added delicious Belgian chocolate chunks… the perfect pairing to cuppa with our best-selling classic crunch! Shop Ginger Parkin with Belgian Chocolate Chunks Biscuits
Coming soon....So what's great about our new Savoury Oatmeal biscuits?
The first savoury baked treat for us at Lottie Shaw's and we are really proud to say they're high in fibre, low in sugar, palm free and vegan, naturally wholesome and full of flavour, a lot of seriously good things to shout about!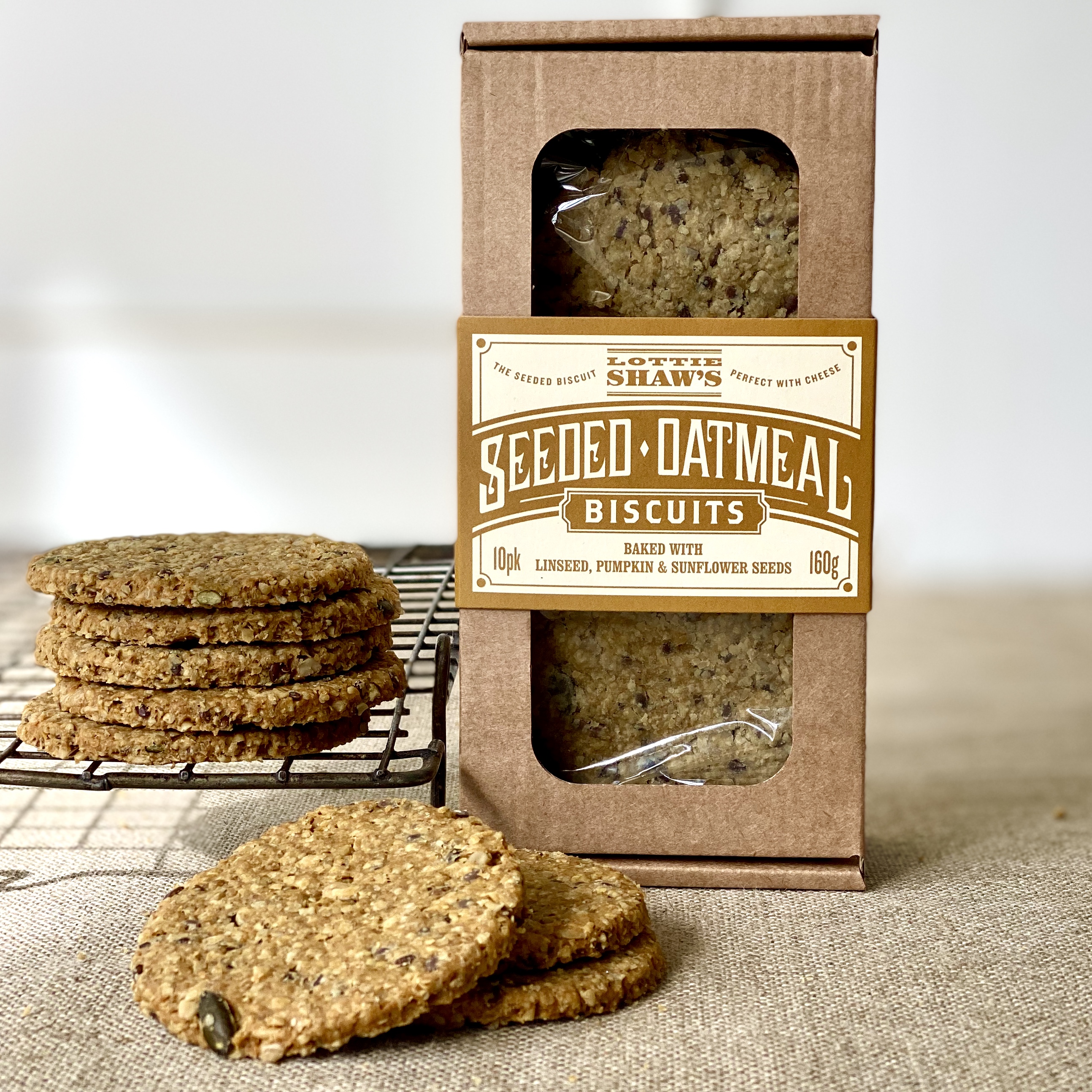 The Savoury Seeded Oatmeal Biscuit.
Our vegan oatmeal biscuit is packed with multi seeds; pumpkin, sunflower and brown linseed, sourced from Country Products in North Yorkshire. Great shared with friends paired with your favourite cheese, dips or on its own - a healthy pocket snack, full of naturally wholesome flavour.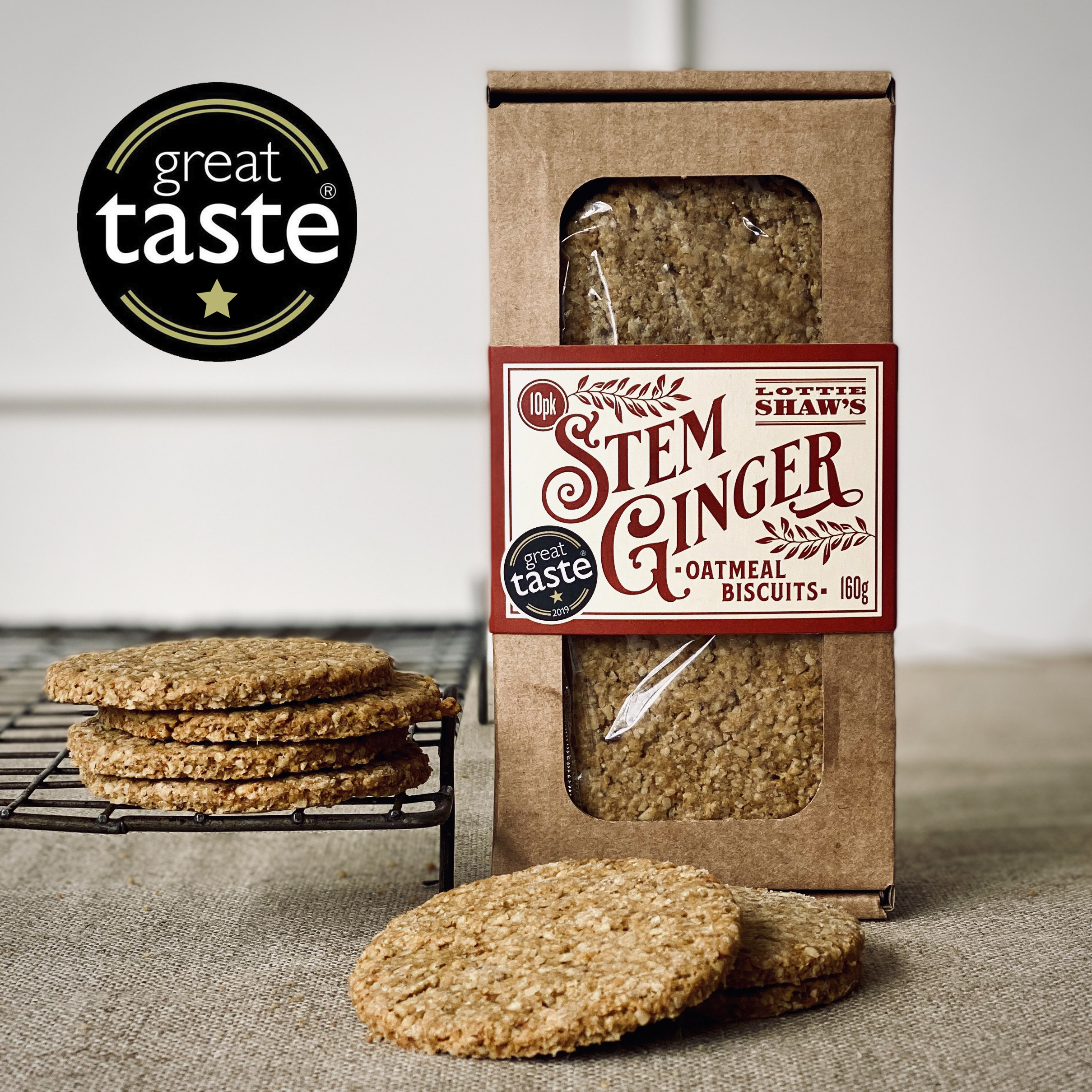 The Stem Ginger Oatmeal Biscuit.
We're very proud that this biscuit is the winner of a 2019 Great Taste Award. Baked with a blend of oatmeal, chunks of stem ginger and artisan oil from our friends at Yorkshire Rape Seed Oil, it is again vegan, perfect with a hearty slab of cheese (Wensleydale with apricot is delicious) or a simply lovely as a ginger biscuit if you don't have a particularly sweet tooth.
To wrap it up…
We've worked hard to make sure you enjoy every single bite! What's so exciting about our new collection is the sustainable packaging; we have 8 biscuits in each of the sweet biscuit boxes, but wrapped in 2 completely recyclable film packs designed to "eat one now, keep one fresh & save it for later". In the Savoury Oatmeal Biscuit box there are 10 biscuits, again in 2 recyclable film packs. With our signature heritage designs and a lovely window to peak at the biscuits, you can see there is no unnecessary plastic tray carrier and the compostable box and sleeve are fully recyclable.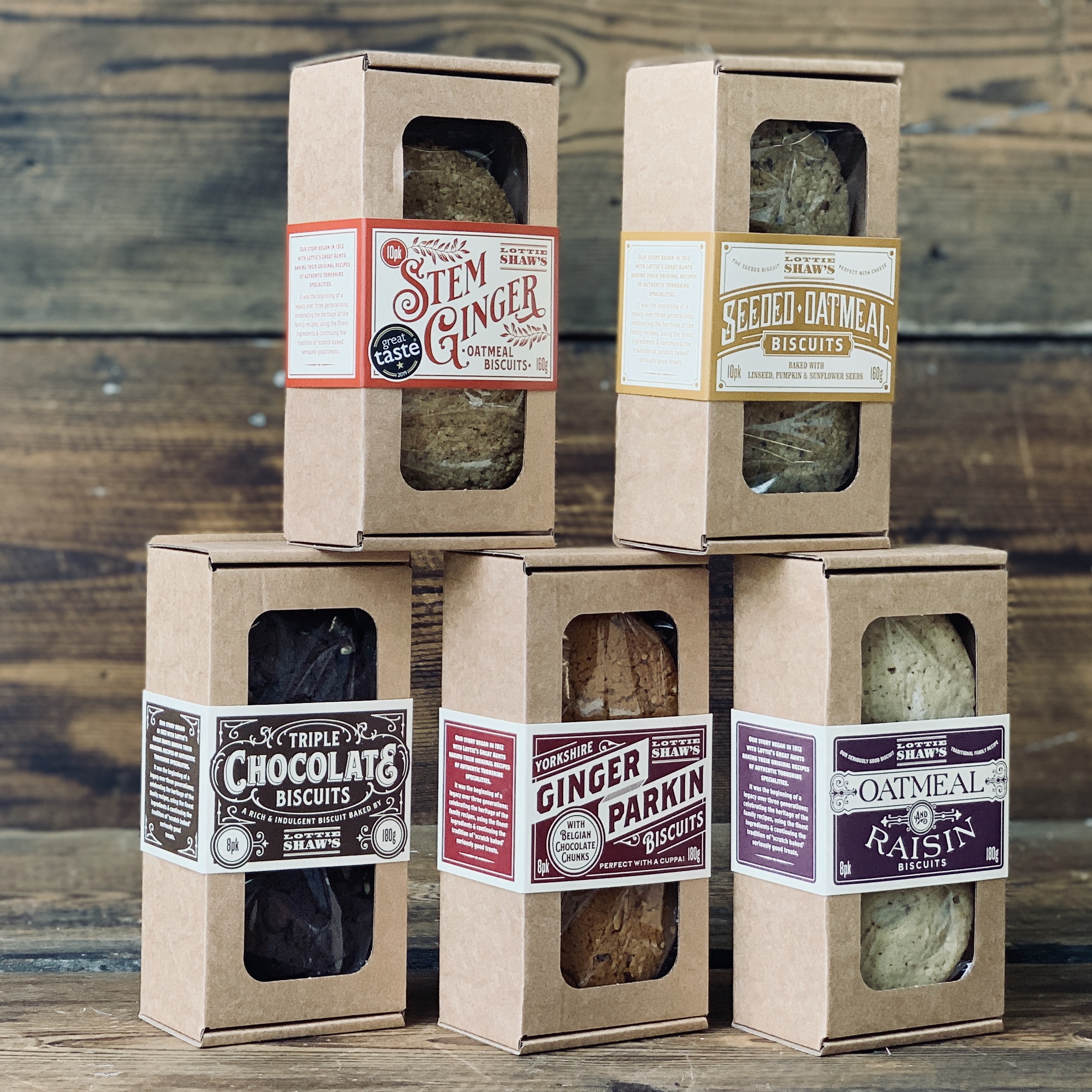 Times change but some things stay the same..
We may no longer bake in the same Victorian kitchen as my Great Aunts, but in our state of the art bakery just down the road from where it all began, our Lottie Shaw's ethos still remains the same… use the finest ingredients, with the techniques of traditional 'scratch baking', to bring to you 'The Authentic Taste of Yorkshire'.
So why not try our other flavours?
Triple Chocolate | Oatmeal & Raisin | Ginger Parkin & Belgian Chocolate chip |

Stem Ginger Oatmeal | Seeded Oatmeal, with linseed, pumpkin & sunflower seeds.